Consider this ugly little number, which ended up a sleazy sales pitch for another PPV...
Survivor Series 1991 - Joe Louis Arena - 11/27/91
Wow. Not only was Survivor Series 1991 not a good PPV, it was little more than a hype show for the newest WWF PPV offering six days later, This Tuesday in Texas. This was such a cheap-ass bait and switch, and had I actually paid to see this show I'd have been LIVID. In an odd way this PPV was ahead of its time in that it essentially accomplished the same thing as every PPV in the Vince Russo era - hook the paid viewers into watching an upcoming show. Just mystifying.
The opener looked fantastic on paper. Ric Flair, The Mountie, Ted Dibiase, and The Warlord vs. Roddy Piper, Bret Hart, Davey Boy Smith, and Virgil. This was Ric Flair's first major feud in the WWF, and the heat between him and Piper was fantastic. Piper had been an announcer for a while and got put on probation for getting physically involved with Flair, to the point that President Jack Tunney threatened suspension if it happened again. Flair then took advantage, taunting Piper repeatedly and slapping his headset off, hoping to provoke a fight. Piper snapped, was fired as an announcer and reinstated as a wrestler.
Anyway what a great lineup - Flair, Dibiase, Piper, Bret and Davey Boy all in the same match! And for about 22 minutes this was a pretty damn good elimination match. Took its time, didn't rush to get to the end, had all the markings of an epic harkening back to the '87 and '88 shows. Aaaaaand then a wild brawl broke out where five guys all got disqualified at once, leaving Ric Flair as the sole survivor. Get the fuck right outta here. FIVE-MAN DISQUALIFICATION. This had to be the cheapest and laziest booking of the decade. There was no discernible reason they couldn't have gone the traditional route, made this a 27-minute match that came down to Flair vs. Piper, and had Flair win using a cheap rollup while hooking the tights. Then this could've been one of the best WWF matches of the year. But no. Let's just toss the whole thing out. Unbelievable.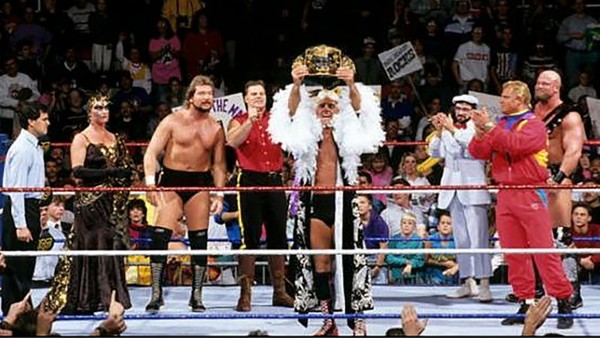 What a promising match this was....
Next we had, for the second year in a row, a pointless match involving Sgt. Slaughter, as he led Jim Duggan, Kerry von Erich, and Tito Santana against Col. Mustafa, The Berzerker, Skinner, and Hercules. Slaughter had finally lost his feud with Hulk Hogan and once again embraced America, turning on his Iraqi sidekicks. So the guy around whom they had built most of 1991 as a traitorous, flag-burning terrorist-type was now begging the fans to take him back. This is reason #387 why the US-Iraq angle was a terrible idea: once you have the villain publicly side with a murderous totalitarian with whom America was actually at war, it's a little tough to get the fans back on his side later on. Not surprisingly this new Slaughter-Sheik feud didn't exactly light up the wrestling world. Also they had the babyfaces sweep the heels here, immediately negating the novelty of 1990's Visionaries-Vipers sweep.
For the third year in a row the advertised main event of Survivor Series did not close the show. Hulk Hogan defended the WWF Title against The Undertaker. Now this was a very fresh pairing. Taker had only been in the company a year and pushing him to a PPV main event was a pretty big deal. Unfortunately the match was nigh unwatchable. I'm serious, this is one of the worst main events I've ever seen. Slow, dull, plodding, and a nightmarish web of no-selling. Taker's character was portrayed as impervious to pain, and Hogan was famous for his invincible comeback. The match mercifully ended when Flair slid a chair into the ring and Taker Tombstoned Hogan on it to win the belt. This development was certainly very cool - the new monster heel winning the Championship. But I smelled a rat three days later when they announced a rematch at the Tuesday in Texas PPV. Just super - a six day title reign. Love when that shit happens.
Wow, Hogan's head is nowhere near that chair.....
Fourth up was another match featuring The Rockers that looked like a throwaway on paper but was actually decent. The Rockers/Bushwhackers faced The Nasty Boys/Beverly Brothers. This was obviously just tossed together as a way to get these four teams on the show, but there was some nice drama with the Rockers teasing a breakup and Marty Janetty trying to defy the odds against three opponents. Better than it should've been.
The last match went from being very intriguing, to potentially even more intriguing, to being an underwhelming free TV match. Originally the plan was Sid Justice, Big Bossman, and the Legion of Doom vs. Jake Roberts, IRS, and the Natural Disasters. Sid was legitimately injured and unable to compete, so the company teased reinstating Randy Savage, who had "retired" after losing to Warrior at 'Mania that year, and who was feuding with Jake after the post-wedding angle at SummerSlam. Instead they opted to keep both Savage and Jake out of the match to gouge viewers into buying the Tuesday in Texas PPV where Savage and Jake would fight one-on-one. This left the final Survivor Series match as a six-man elimination bout with no real team captains. It was fine for what it was, but had no business closing a major PPV. At least the Legion of Doom won the whole thing.
Wait, both teams include The Invisible Man?
Following suit with every other PPV of 1991, the Survivor Series was a thrown-together mess and ended up just an attempt to hook paying customers into shelling out more money for a resolution. Just awful, awful stuff.
Best Match
: Team Flair vs. Team Piper, by default
Worst Match
: Team Slaughter vs. Team Mustafa
What I'd Change
: How 'bout you use this major PPV event to actually resolve something instead of tacking on another show six days later? Put Savage and Jake in the final match so it's actually good, make the Flair-Piper match a full deal with three acts instead of tossing everything out halfway through. Wake Hogan and Taker up so their match isn't snore-inducing.
Most Disappointing Match
: Team Flair vs. Team Piper
Most Pleasant Surprise
: Team Rockers vs. Team Nasty Boys
Overall Rating
: 2/10
Better than WrestleMania VII and/or Summerslam '91?
- Nope
Thanks for reading - subscribe to our mailing list, and follow us on Twitter, MeWe, Facebook and YouTube!
1990