Welcome to another WrestleMania-themed Top Ten Things, folks! With the Show of Shows in the history books, I thought I'd look at some of my favorite moments from the past 35 years of WrestleMania....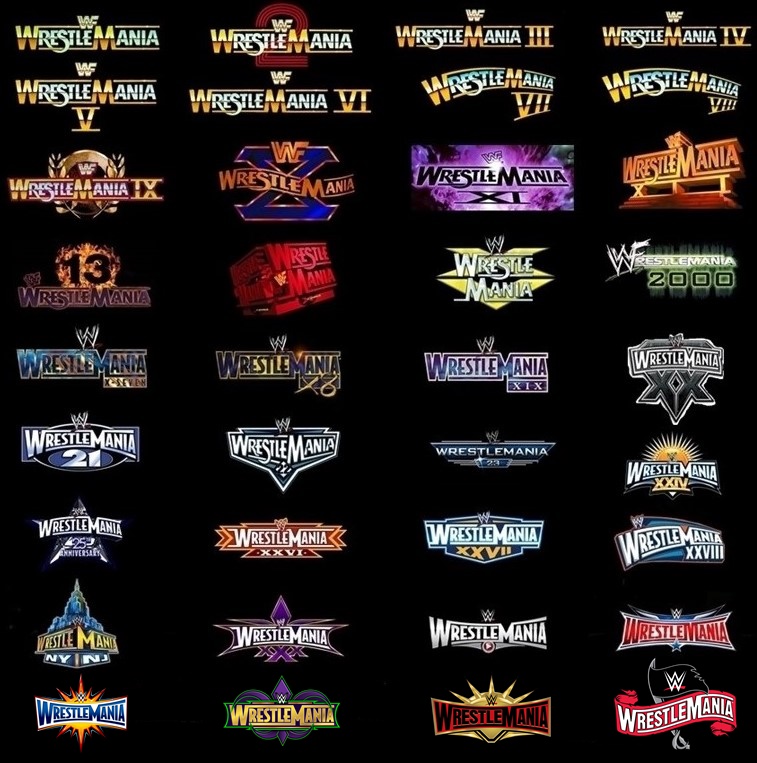 In addition to hopefully providing some great and memorable matches, WrestleMania has also largely been about those special moments that live in your biological hard drive forever. There has certainly been no shortage of such occurrences at The Showcase of the Immortals, whether it's a particularly significant move someone did during a match, or a striking visual, or something that happened after the match was over. At its best, WrestleMania creates lasting memories, and here are ten that will stick with me for the rest of my days....
10. Hogan-Rock Staredown (WrestleMania X8)
In 2002 the WWF brought back Hulk Hogan, Kevin Nash and Scott Hall just in time for 'Mania season, and the former set his sights on The Rock, in an Icon vs. Icon match. When I first learned of this plan I absolutely hated the idea; the company had built itself back up as a showcase for young, current talent, and bringing back old guys for a big money match, particularly ones who were key in nearly destroying the WWF via their competition, really got my goat. In fact you can trace Vince's current fetish for part-timer-centric WrestleMania matches to this point. But goddamn if this wasn't a super fun match, and it all kicked off with an extended staredown that had 65,000 Toronto fans losing their ever-lovin' minds. Hogan and Rock stood face to face and each began scanning the rabid Skydome crowd before finally locking up in battle. They had that building in the palms of their hands and no match on that card could possibly have followed this one.
9. Lesnar Almost Dies (WrestleMania XIX)
'Mania 19 is my all-time favorite edition. It was such an unexpectedly great show from a company that had bungled nearly every major angle in the previous two years, this stacked card soared past the superb WrestleMania X-Seven for me. And the most memorable moment from this show was Brock Lesnar's errant shooting star press in the closing moments of the main event. The 290-pound Lesnar had performed this size-defying move countless times in OVW but had never attempted it on the main roster, and this was to be the finish to his biggest match yet. But he somehow hesitated just a split-second before leaping off the turnbuckle and failed to achieve the necessary rotation. Instead he came crashing down on the top of his head, in one of the most frightening visuals I've ever seen as a wrestling fan. This could easily have killed a lesser man, but Lesnar miraculously managed to finish the match, delivering his third F5 of the night to capture the WWE Title. He also escaped with only a concussion and was back in action a week later. I probably would've died on general principle.
8. Defiant in Defeat (WrestleMania XXVI)
The main event of 'Mania 26 was a rematch of the previous year's Undertaker-Shawn Michaels show stealer, and for me actually topped that bout. The sequel boasted the added intrigue of Streak vs. Career - if Shawn failed to snap Taker's vaunted WrestleMania winning streak, he'd be forced to retire. After 23 or so minutes of stellar action an exhausted Michaels, using Taker's body to hold up his own, reached up and slapped the Dead Man across the face before mocking his "throat slashing" motion. An outraged Taker then angrily snapped Shawn onto his shoulder and delivered a brutal jumping Tombstone to end one of the greatest careers of all time. Michaels, a legendary in-ring storyteller, finished his career with one final act of defiance.
7. Heist of the Century (WrestleMania 31)
One of the worst 'Mania buildups took place in 2015, when every feud felt phoned in and not one of the scheduled matches seemed worthy of the biggest PPV of the year. The main event would feature the unstoppable Brock Lesnar against Vince McMahon's handpicked new top star Roman Reigns. But once again Vince's plan was completely at odds with what the audience wanted, and Roman was booed like he'd personally shat on every fan in attendance. The match itself was quite good - hard-hitting, intense and suspenseful. But it was the surprise plot twist that really made the match and overall saved what had been a mediocre WrestleMania. Mr. Money in the Bank Seth Rollins crashed the party and cashed in his WWE Title contract mid-match, stealing the gold right out from under the two scheduled combatants. It was a unique and memorable way to end 'Mania and sent shockwaves through the industry.
6. Bryan Triumphant (WrestleMania XXX)
For me the last WrestleMania truly meant FOR the fans was the 2014 edition, built around the ongoing journey of unlikely hero Daniel Bryan. After being screwed out of the WWE Title in 2013, the plan was for him to go back to the midcard so the company could focus once more on a returning part-time star as top babyface. Problem was though, the fans didn't want Dave Batista as their hero, they'd already chosen the diminutive Aberdeen native. Two months of crowd hijacking and a CM Punk walkout later, and the 'Mania card had been reshuffled to put Mr. Bryan in the spotlight as both the show opener and closer. Bryan defeated Triple H in a fantastic 26-minute encounter before facing Randy Orton and Batista in the main event. It all led to the incredible moment when Bats tapped out to the Yes Lock, and Bryan got to bask in the afterglow as the company's top Champion, in front of 75,000 YESing fans. For once the company really listened and gave the people what they wanted, and this stands as one of my all-time favorite wrestling moments.
5. Savage wins the Title (WrestleMania IV)
The centerpiece of WrestleMania IV was the first-ever tournament to crown a new WWF Champion. The title had been vacated in the wake of a controversial Hulk Hogan-Andre the Giant rematch, and then-President Jack Tunney declared that 14 men would compete to determine an Undisputed WWF Champion. it all boiled down to the villainous Ted Dibiase and the company's hottest new babyface Randy "Macho Man" Savage. Thanks in part to Hulk Hogan's interference Savage eked out a win to become the eleventh WWF Champion, and the place went wild. Given the time constraints on this show none of the in-ring action was particularly good, but sight of Savage standing tall with Elizabeth on his shoulders holding the Title still serves as one of the great WrestleMania moments.
4. Benoit and Eddie (WrestleMania XX)
2004 saw WrestleMania return to its first home, Madison Square Garden, with an epic Triple Threat main event. Triple H, who'd had a stranglehold on the World Title on and off for 18 months, faced not only his hated frenemy Shawn Michaels but also the '04 Rumble winner Chris Benoit. In a breathtaking 24-minute war, Benoit dumped Shawn out of the ring before snaring Hunter in the crossface, leading to the Evolution leader tapping out in the center of the ring. The NYC crowd erupted euphorically as Benoit celebrated, but the emotion hit fever pitch when Benoit's best friend and recently crowned WWE Champ Eddie Guerrero appeared, tears of joy streaming down his face. The two world-traveled workhorses whom everyone said would never make the big time stood tall as co-World Champions to close out the year's biggest PPV. A pair of tragedies have since left a black mark on this moment, but there's no denying its significance.
3. Flair's Last Stand (WrestleMania XXIV)
Considered by many to be the greatest wrestler to ever lace up a pair of boots, Ric Flair's unparalleled career spanned three-and-a-half decades and came to a bittersweet end on March 30, 2008. Flair had been put on notice by Vince that the next match he lost would be his last, and at WrestleMania he'd face friend and colleague Shawn Michaels in an emotional powderkeg of a match. After twenty minutes of grueling action, a spent Flair slowly crawled to his feet, tears in his eyes, and goaded Shawn to finish him off. Shawn, heartbroken, simply said "I'm sorry. I love you." before drilling Flair with Sweet Chin Music and covering him for the win. Shawn then exited the ring, leaving a sobbing Ric Flair to say his final goodbye as an active WWE wrestler. If there were ever a wrestling match that could make a person cry, this is it.
2. Hogan Slams Andre (WrestleMania III)
It was The Bodyslam Heard 'Round the World. The heroic WWF Champion picked up a 500-pound giant and dumped him on his back before crushing him with a legdrop to retain the Title and cement himself as the industry's top star. It was the first major show I was privy to as a wrestling fan and for 11-year-old Justin it was the hugest thing ever. The match itself wasn't good. Like at all. But somehow this titanic matchup defies the concept of workrate and still transports me back to a time when my tastes were simpler and I was content watching horribly fake-looking punches and a weak-ass bodyslam. The Pontiac Silverdome crowd underwent a nuclear explosion at the sight of Hogan barely lifting Andre off the ground and depositing him on the mat, and at that moment one of the biggest matches of all time was all but decided. I can't imagine WWE ever putting together an historic WrestleMania video package without including this moment. It was more or less the defining visual of 80s WWF.
1. Austin Bleeds. A Lot. (WrestleMania 13)
One of the greatest examples of in-ring storytelling occurred on March 23, 1997, as hated rivals Bret Hart and Steve Austin beat the shit out of each other in front of a deeply divided Chicago crowd. Going into the contest Bret was the increasingly jaded babyface who'd become disillusioned with an increasingly lawless WWF, while Austin was the salty, vulgar bully heel who took pleasure in hurting people. But during the course of this match the two managed to pull off the greatest double-turn anyone's ever seen. The finish came when Austin, gushing blood like a broken water main, fell victim to Bret's Sharpshooter and fought the move for a good two minutes. The visual of a defiant, blood-soaked Austin clenching every muscle trying to escape the punishing submission has seared itself into the memory of probably everyone who calls themselves a wrestling fan, and the aftermath of Austin passing out and Bret continuing the attack paved the way for one of the most successful babyface runs in wrestling history. This for me is the greatest of all WrestleMania moments and won't likely be topped.
That wraps it up - thanks for reading, and comment below with your favorite 'Mania moments! Join us on Facebook, Twitter, MeWe and YouTube!