Welcome to another episode of Top Ten Things, here at Enuffa.com!
As everyone who's spent any significant time discussing wrestling with me knows, I love me some Survivor Series elimination matches.  Every year I look forward to them, hoping beyond hope that WWE won't completely screw them up.  Some years my faith is rewarded (2016), some years not so much (2017).  But as we all know, Survivor Series is often about more than just the traditional 5-on-5 matches.  Some years the SS gimmick is completely upstaged by a regular old singles or tag team affair.  Some years in fact, one or two non-gimmick matches end up saving the entire show (when the company has decided not to take the traditional SS matches seriously).  Today's list is all about the regular ol' wrestling matches that have stood out, despite their lack of Survivor Series-ness.
Here we go.  This list includes two Honorable Mentions....
HM: Dolph Ziggler vs. John Morrison - 11.20.11
Our first entry is the opening match of the 2011 edition, and the final WWE match for John Morrison, better known these days as Impact Heavyweight Champion Johnny Impact, better known in my household as Johnny Glampants (Damn, he's handsome).  This was a spectacular US Title match, as Dolph Ziggler defended against the aforementioned Captain of Starship Pain.  These two gelled superbly and JoMo left WWE with a bang, nearly stealing the show with a thrilling exercise in nonstop action.  This eleven-minute match featured 17 kinds of Awesome; for those counting, that's roughly 1.5 kinds of Awesome per minute.
HM: Batista vs. The Undertaker - 11.18.07
The Hell in a Cell main event of Survivor Series '07 was the blowoff to the excellent Undertaker-Batista World Title feud.  These two had amazing chemistry and turned in a handful of show-stealing matches that year; I consider 2007 to be when Taker rediscovered his considerable in-ring ability, and also the year Batista came into his own as a worker.  After twenty-plus minutes of back-and-forth action, the returning Edge interfered, disguised as a ringside cameraman, and cost Taker the bout.  While run-in endings usually detract from big matches, in this case Edge's meddling made perfect sense and kicked off a great feud with Taker that lasted through most of 2008.
10. Ronda Rousey vs. Charlotte Flair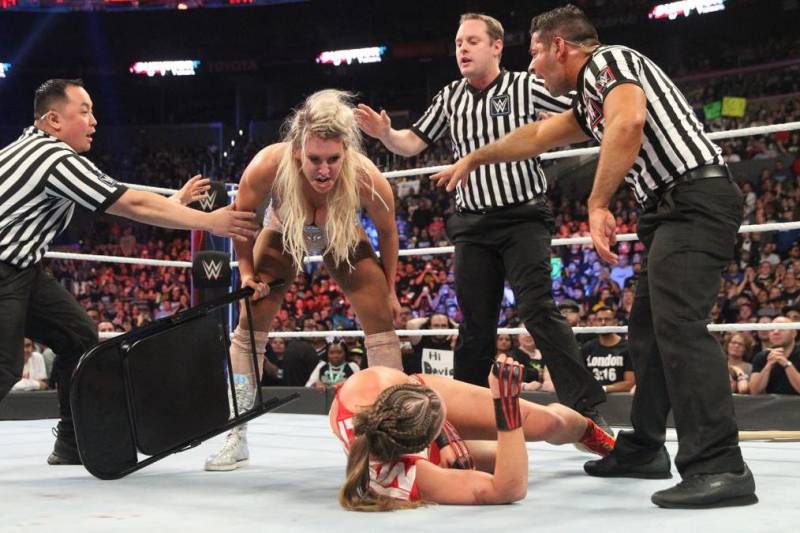 Ronda Rousey's best wrestling match to date semi-main evented the 2018 Survivor Series, and holy shit did she and Charlotte beat the piss out of each other.  This match felt like a legitimate fight, with Flair attempting to go all MMA up in this bitch.  They were stiff as hell and incorporated lots of grappling, while Flair also went for her signature stuff.  Charlotte went move for move with Ronda and the match was dead-even almost the entire time.  Finally after being frustrated on numerous occasions Charlotte rolled to the outside, Ronda went after her, and Charlotte whacked her with a kendo stick for the DQ.  What followed was one of the most violent beatdowns I'd seen in a long time.  Charlotte MURDERED Ronda with the kendo stick, leaving welts all over her body, and then Pillmanized her neck with a chair.  The crowd, savages that they were, cheered Charlotte on the whole time, which was a bit disturbing.  But this was a fantastically executed beatdown (which of course WWE didn't follow up properly at all), to cap off a great bout.
9. CM Punk vs. John Cena vs. Ryback - 11.18.12
The 2012 Series was originally to be headlined by a 5-on-5 match between Team Punk (CM Punk, Miz, Alberto Del Rio, Cody Rhodes and Damien Sandow) vs. Team Foley (Randy Orton, Ryback, Kofi Kingston, Kane and Daniel Bryan).  Two weeks out however, Vince changed the card around so there'd be a WWE Title match as the main event - CM Punk vs. John Cena vs. Ryback.  Going in I was so pissed about the card reshuffle that I figured this would be a forgettable schmozz of a match.  I was incorrect - these three put together one of the two best matches of the night.  This was a high-energy, chaotic brawl full of believable near-falls that culminated with Ryback hitting Shellshock on Cena.  Before he could get the pin though, three unknown assailants clad in black stormed the ring, beat the tar out of Ryback, and triple powerbombed him through a ringside table.  Punk then opportunistically covered the unconscious Cena to retain the belt.  Those three attackers?  Dean Ambrose, Seth Rollins and Roman Reigns.  This of course proved to be one of the most exciting angles of the decade, launching the careers of three future top stars, and putting an exclamation point on a helluva main event.