Welcome to another episode of Top Ten Things, here at Enuffa.com!
As everyone who's spent any significant time discussing wrestling with me knows, I love me some Survivor Series elimination matches. Every year I look forward to them, hoping beyond hope that WWE won't completely screw them up. Some years my faith is rewarded (2016), some years not so much (2017). But as we all know, Survivor Series is often about more than just the traditional 5-on-5 matches. Some years the SS gimmick is completely upstaged by a regular old singles or tag team affair. Some years in fact, one or two non-gimmick matches end up saving the entire show (when the company has decided not to take the traditional SS matches seriously). Today's list is all about the regular ol' wrestling matches that have stood out, despite their lack of Survivor Series-ness.
Here we go. This list includes two Honorable Mentions....
HM: Dolph Ziggler vs. John Morrison - 11.20.11
Our first entry is the opening match of the 2011 edition, and the final WWE match for John Morrison, better known these days as Impact Heavyweight Champion Johnny Impact, better known in my household as Johnny Glampants (Damn, he's handsome). This was a spectacular US Title match, as Dolph Ziggler defended against the aforementioned Captain of Starship Pain. These two gelled superbly and JoMo left WWE with a bang, nearly stealing the show with a thrilling exercise in nonstop action. This eleven-minute match featured 17 kinds of Awesome; for those counting, that's roughly 1.5 kinds of Awesome per minute.
HM: Batista vs. The Undertaker - 11.18.07
The Hell in a Cell main event of Survivor Series '07 was the blowoff to the excellent Undertaker-Batista World Title feud. These two had amazing chemistry and turned in a handful of show-stealing matches that year; I consider 2007 to be when Taker rediscovered his considerable in-ring ability, and also the year Batista came into his own as a worker. After twenty-plus minutes of back-and-forth action, the returning Edge interfered, disguised as a ringside cameraman, and cost Taker the bout. While run-in endings usually detract from big matches, in this case Edge's meddling made perfect sense and kicked off a great feud with Taker that lasted through most of 2008.
10. Ronda Rousey vs. Charlotte Flair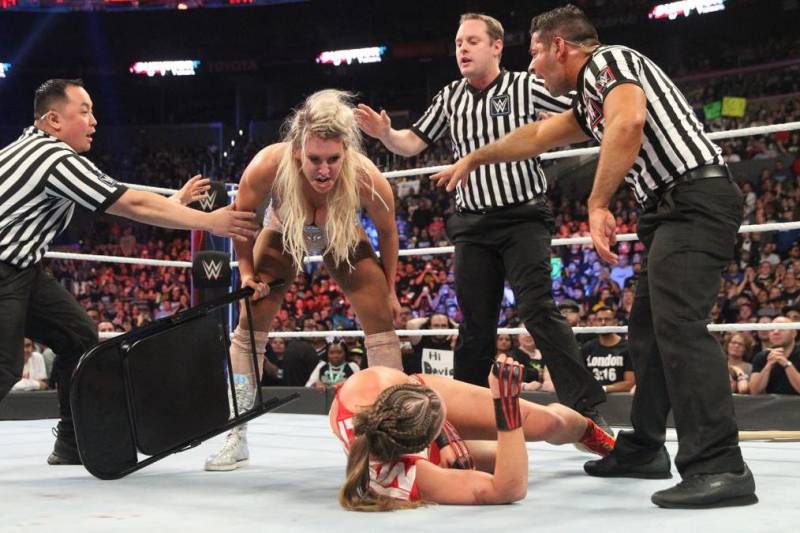 Ronda Rousey's best wrestling match to date semi-main evented the 2018 Survivor Series, and holy shit did she and Charlotte beat the piss out of each other. This match felt like a legitimate fight, with Flair attempting to go all MMA up in this bitch. They were stiff as hell and incorporated lots of grappling, while Flair also went for her signature stuff. Charlotte went move for move with Ronda and the match was dead-even almost the entire time. Finally after being frustrated on numerous occasions Charlotte rolled to the outside, Ronda went after her, and Charlotte whacked her with a kendo stick for the DQ. What followed was one of the most violent beatdowns I'd seen in a long time. Charlotte MURDERED Ronda with the kendo stick, leaving welts all over her body, and then Pillmanized her neck with a chair. The crowd, savages that they were, cheered Charlotte on the whole time, which was a bit disturbing. But this was a fantastically executed beatdown (which of course WWE didn't follow up properly at all), to cap off a great bout.
9. CM Punk vs. John Cena vs. Ryback - 11.18.12
The 2012 Series was originally to be headlined by a 5-on-5 match between Team Punk (CM Punk, Miz, Alberto Del Rio, Cody Rhodes and Damien Sandow) vs. Team Foley (Randy Orton, Ryback, Kofi Kingston, Kane and Daniel Bryan). Two weeks out however, Vince changed the card around so there'd be a WWE Title match as the main event - CM Punk vs. John Cena vs. Ryback. Going in I was so pissed about the card reshuffle that I figured this would be a forgettable schmozz of a match. I was incorrect - these three put together one of the two best matches of the night. This was a high-energy, chaotic brawl full of believable near-falls that culminated with Ryback hitting Shellshock on Cena. Before he could get the pin though, three unknown assailants clad in black stormed the ring, beat the tar out of Ryback, and triple powerbombed him through a ringside table. Punk then opportunistically covered the unconscious Cena to retain the belt. Those three attackers? Dean Ambrose, Seth Rollins and Roman Reigns. This of course proved to be one of the most exciting angles of the decade, launching the careers of three future top stars, and putting an exclamation point on a helluva main event.
8. Randy Orton vs. Shawn Michaels - 11.18.07
The 2007 show featured not one but two great main events, as Randy Orton defended the WWE Title against Shawn Michaels, with the stipulations that Orton could lose the belt on a DQ and that Shawn was banned from using the superkick. These stips made for some nice psychology and forced Shawn to get a little creative with his offense, borrowing the sharpshooter, the ankle lock, and oddly enough the Crippler Crossface. The match came to a head when Shawn, out of instinct, nearly went for Sweet Chin Music but stopped himself, allowing Orton enough time to hit the RKO for the win.
7. Brock Lesnar vs. AJ Styles - 11.19.17
In 2017 the show was headlined by a traditional elimination match, but this was one of the few years that should not have been the case. While said main event was horribly booked and counterproductive, the semi-main between Universal Champion and WWE Champion was an easy show stealer and proved to be Lesnar's best match since 2013. Typical of a Lesnar match, Brock basically killed AJ for the first six minutes or so, but AJ finally fought back and came to dominate Brock with his signature moves. Brock took probably more offense here than in any singles match he'd had since the Taker feud in 2015. AJ controlled most of the second half, nearly putting Brock away with the Calf Crusher (which Brock ingeniously countered by simply slamming AJ's head against the mat several times) and the Phenomenal Forearem. In the end AJ lasted 15+ minutes against the unbeatable RAW champ before falling to the F5.
6. Edge & Rey Mysterio vs. Kurt Angle & Chris Benoit vs. Los Guerreros - 11.17.02
For some reason the 2002 Survivor Series has become a cult favorite, but I still place it as one of the worst editions. The one really great match on this show was the WWE Tag Team Title match - a Triple Threat Elimination bout between The Smackdown Six. This three-way feud for the straps resulted in some spectacular television in the fall of 2002, and this match served as the climax of that rivalry. Angle and Benoit were the first team to go, after Edge leveled Benoit with a Spear, but the Guerreros eventually outlasted the babyface champions, with Eddie submitting Mysterio to win the titles. While this wasn't on the level of the famous No Mercy tag team match a month earlier, it was easily the match of the night here.
5. Brock Lesnar vs. Daniel Bryan - 11.18.18
When Daniel Bryan unexpectedly defeated AJ Styles for the WWE Title a week before Survivor Series 2018, I was both excited and apprehensive. It meant we'd finally be getting the dream match that was supposed to happen in 2014 before a neck injury put Bryan on the shelf, but I dreaded the idea of a glorified squash. I was hoping for something similar to Brock vs. AJ from 2017, and amazingly that's exactly what we got. Daniel Bryan began the bout by taunting Brock and stalling before getting absolutely clobbered, suplexed to death and F5ed. Brock went for a second F5 but Bryan escaped and knocked down the referee, before kicking Brock in the groin and taking over with a flying knee for a near-fall. Bryan kicked the crap out of Brock, hit the flying knees off the apron and worked over Brock's leg to the point that Brock collapsed on a second F5 attempt, which Bryan reversed into the Yes Lock. Brock sold this beautifully, conveying absolute panic as he struggled to escape. Brock powered out and Bryan switched to a triangle choke, which Brock countered with a powerbomb, followed by another F5 for the win. The announcers sold this match like Bryan pulled off a miracle and like Brock knew damn well he was in a fight. Brock continued to sell his injuries post-match, beautifully following up his best WWE match in years.
4. Diesel vs. Bret Hart - 11.19.95
The main event of the excellent 1995 Survivor Series was a rematch between WWF Champion Diesel and Bret Hart, in a No Holds Barred contest. The third in their 18-month trilogy, this match was realistically brutal and very well-worked, and Bret once again brought out Diesel's best. This battle featured strong psychology with Bret using any and all available tactics to negate Diesel's size advantage, and portrayed Diesel as somewhat torn between getting the win at all costs or remaining the company's top hero. After hesitating long enough for Bret to get the pin with a small package, Diesel snapped and became a tweener for several months, rediscovering his killer instinct. Incidentally the spot where Diesel knocked Bret off the apron and through a ringside table just about made me poop. At the time I had never seen anything so brutal.
3. Alberto Del Rio vs. CM Punk - 11.20.11
The 2011 Survivor Series took place on my birthday, and as a gift to me (Yeah, that's how I'm spinning it), WWE put on a spectacular championship match that kicked off one of the great modern title reigns. After (deliberately?) cooling the mega-hot run of CM Punk that summer, the company finally got behind him again (to a certain extent anyway) as their top champion. The first step was this fantastically-worked match, full of great action, drama, submission holds and reversals. After 17 minutes Punk forced Del Rio to tap out to the Anaconda Vice and began his legendary 434-day reign as WWE Champion.
2. Bret Hart vs. Shawn Michaels - 11.25.92
The 1992 Survivor Series was, overall, a stinker of a show, with almost nothing resembling the original Survivor Series concept, and very little resembling good wrestling. But it did have (at the time) the longest and one of the best WWF PPV main events, pitting WWF Champion Bret Hart against I-C Champion Shawn Michaels. Heralding a huge stylistic shift in WWF main event wrestling, Bret and Shawn worked a classic no-frills wrestling match for 26 minutes. These two were very small for WWF main event wrestlers and they set out to prove that you didn't have to be 6'5" and 275 pounds to capture the fans' imagination. I remember thinking at the time, the WWF has finally caught up to the old NWA in terms of main event match quality. If Bret-Bulldog at SummerSlam proved Bret deserved to be a top guy, this match proved that he could be THE top guy. This was one of the best matches of 1992 and still holds up as a superb wrestling match.
1. Bret Hart vs. Steve Austin - 11.17.96
Probably the greatest match to ever take place at any Survivor Series show, elimination rules or not, was this mid-90s instant classic. After a six-month hiatus, Bret Hart made his long-awaited return to action (in Madison Square Garden no less) to face the company's hottest new villain, Stone Cold Steve Austin, and they had a match for the ages. This was wild, crisp, and brutal, telling a perfect story of the noble veteran hero vs. the ruthless outlaw, and running an amazing 28 minutes before Bret pulled out a surprise pinfall by countering Austin's Million Dollar Dream hold. Many credit the Bret-Austin WrestleMania 13 rematch as elevating Austin to main event status, but it was really this match that demonstrated how good he was. Austin hung with Bret move for move, spot for spot, and began to win over the crowd. Believe it or not, I consider this match superior to its sequel. This is likely to remain forever at the top of this particular list.
As Jeff Goldblum would say, "And, well, there it is." Hope you enjoyed reading about non-Survivor Series Survivor Series matches. There have been plenty of good ones over the years.
Thanks for reading - follow us on Facebook, Twitter, MeWe and YouTube!